It's crazy how time flies. I remember the day my sister had Nathan. I was a Sophomore at school. Swimming, we had a swim meet that day vs. ODU! It was snowing!! My parents rushed home and I had to wait a week to see the little booger!!!
Now, he's 6!! The past 6 years have flown by!! My lil' man isn't so little anymore!!! (tear) Although, he's growing up to be quite the little looker. He already his a heart-breaker with all his kindergarten girlfriends. Yes, I said ALL he has multiple!! :)
Well enough of me rambling on about how time flies and how cute he is, here are a few photos from his Monster Truck birthday party.
The walkway into the party. Nathan would stop people from coming in the backdoor and tell them to go around to the front to come into the house.
The

MONSTER TRUCK

cake that my sister made!!
100% devil right here. He so badly wants to eat that cake!! :)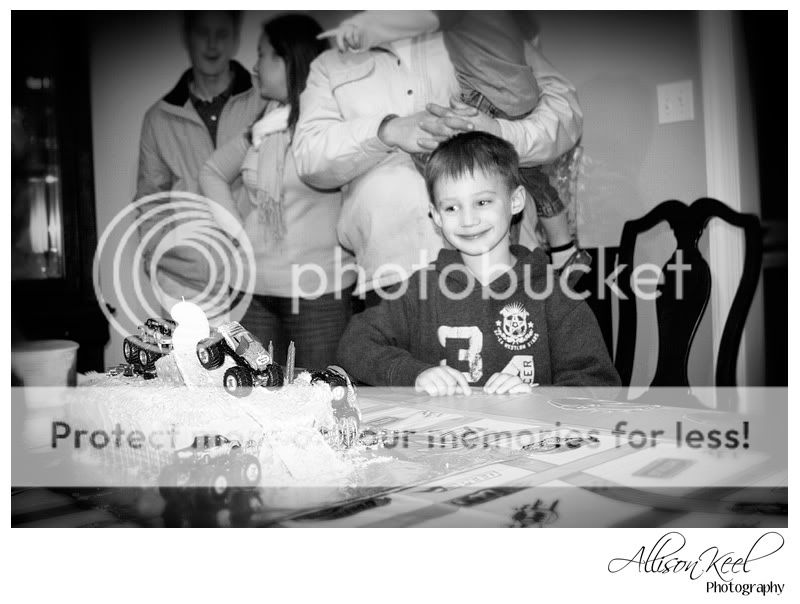 Waiting to blow out the candles while we sing him Happy Birthday.
Thinking of his wish...
blowing out his candles...
Oops. Didn't blow them all out. Going for a 2nd try.
and their out!
The Birthday Boy!!!
3 out of the 4 cousins!